Napoli ready to splash €40m on Serie A star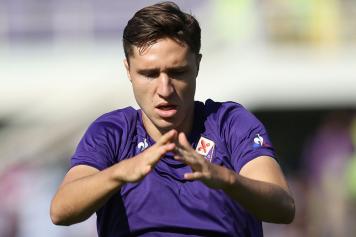 03 January at 16:45
Napoli are ready to make a €40 million bid for Federico Chiesa,
according to the latest reports.
The Fiorentina star has been on fire in recent months, helping replace Federico Bernardeschi.
Reports earlier this month indicated that the Della Valles had told Napoli that their man was available for a €45 million base price.
Though they told fans that they wanted the midfielder to stay "for many years", in private they have recognized that they are willing to negotiate for the talented star, who is the son of former Serie A legend Enrico Chiesa.
Also chased by Liverpool,
Chiesa has scored four Serie A goals this season, adding two assists.
The 20-year-old has only been a Serie A starter for the past season-and-a-quarter, and is seen as one of the future stars of tomorrow, with Chelsea and Juventus also very enamoured.
One thing has to be mentioned: Napoli are ready to pay €40m for their man now, but Fiorentina had told them that Chiesa wouldn't be available until the summer.