Napoli's Mertens: "We are were we are thanks to Sarri"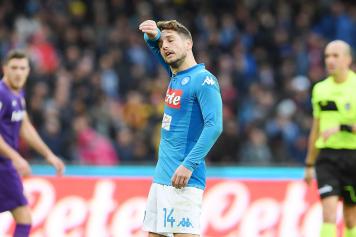 14 December at 21:00
Napoli's Belgian international striker Dries Mertens was interviewed by Canale 21 regarding the calendar year as well as the start to the season.
Mertens admitted that "It is a difficult moment, but it's in times like these where you really see how strong a squad is. You have to train hard, continue working and never give up. We are not tired, but there are so many games and you can't win them all. There's no such thing as a side that has never had a tough moment during the course of a campaign. We're still up there and will see who is top at the end."
Mertens then heaped praise on Napoli coach Maurizio Sarri stating that "In my view, we wouldn't be where we are today if it weren't for Sarri. He is responsible for a lot of it, he made his decisions and changed Napoli. Since he has been at this club, he has made even normal players become top class."
In conclusion he was asked about his future stating that: "I like to live in Naples, as it's very different from Belgium. The people always made me feel at home here."
Nima Tavallaey Roodsari (@NimaTavRood)