Napoli, Sarri's trainer hints at Chelsea move?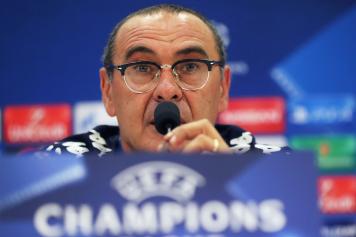 31 May at 19:58
Will today be de decisive day for Maurizio Sarri and Chelsea? Tonight at midnight, Sarri's 8 million euros Napoli clause will expire. Napoli have already hired his replacement as Carlo Ancelotti is the new Napoli boss. Even so, Sarri is still linked to Napoli contract wise.
ABRAMOVICH WON'T LIKELY PAY - Even if the Chelsea boss doesn't pay this fee, a deal might still be found as De Laurentiis could lower his demands. All the hints point towards London as Zenit have already named Semak as their head coach.
THE TRAINER'S HINT - The Napoli goalkeeper trainer (Nenci) and his friend hinted that a deal could be in place with the blues as he will likely be joining Sarri in London (you can view the picture in our gallery section right here on
Calciomercato.com
). Sarri already has a deal in place for some time now with the blues as things seem to be moving forward a little quicker today.
From @AleDigio89 translated by @Calcionews89