New AC Milan star Paqueta: 'I always took Gattuso on Playstation'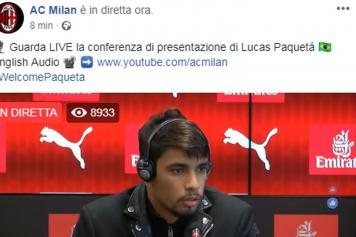 08 January at 16:10
AC Milan new signing Lucas Paqueta has revealed that he always played Rino Gattuso while playing Playstation as a kid.
The Brazilian was presented to the media in a press conference today, following his move from Flamengo for a fee of 35 million euros. While his signing was announced in October, Paqueta joined up with the Milan squad over the last few days in 2019.
During his
first ever press conference at Milan
, Paqueta revealed that he admires Rino Gattuso and always took the former rossoneri midfielder while playing Playstation as a kid.
He said: 'Without a doubt he was a great player, one I always took on Playstation. I am very happy to be trained by him, I was very well received and he left me quiet. I hope to meet expectations'.
'I have not talked to Gattuso about this yet, I like being in midfield. At Flamengo I also played from second tier, I want to play the role that Gattuso will tell me to help the team. '
For more transfer news and updates, click here