New banners in New York and Sydney: Roma fans protest against Pallotta going global - watch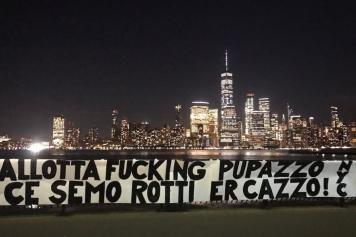 17 May at 10:45
Roma supporters have continued to express their anger towards President James Pallota, now with a global feel to it. Following the announcement of the departure of club captain Daniele De Rossi on Tuesday by the club, there has been plenty of fall out.

De Rossi, who came through the Giallorossi academy, himself said he was not too pleased with how the situation was handled and the Roma fans are making their voices heard. Besides those in the Italian capital, Roma fans from around the world have taken to the streets to vent their frustration.

From those in London yesterday, there have also been protests in New York and Sydney. In the USA, a banner was hanged saying "Pallotta fu***** puppet", while Down Under, they went with the more diplomatic "Pallotta Vattene", meaning "Pallotta Get Out". The protest are expected to continue into the weekend and in the coming days.