No Catalan Feud: Ramos, Pique are going into business together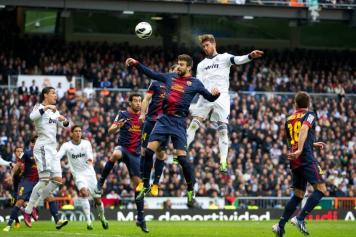 05 October at 13:11
Sergio Ramos and Gerard Pique are far from bickering, if the latest report from Marca is accurate.
The Barcelona star and his Real Madrid team-mate are, in fact, about to go into business together, and will launch their own media outlet, called "Power to the Players".
Pique has made a number of sensible comments supporting Catalan independence, and about the recent incidents, where an (illegal) independence referendum has been met by a strong, often excessive police reaction, with around 800 voters being injured.
The idea is that the outlet would allow players to tell their side of the story, and that 'Power to the Players' is supposed to be the equivalent of the "Players' Tribune". The latter is published in American and already boasts Cristiano Ronaldo, Ivan Rakitic and Marcelo among its past contributors.
Ramos and Pique have taken shots at each other before through the media, so a little friction is to be expected. Pique was once accused by his Spanish international team-mate of thinking that
"everything is a plot against him".
@EdoDalmonte