Not only Montella: Losers from initial stretch of Serie A season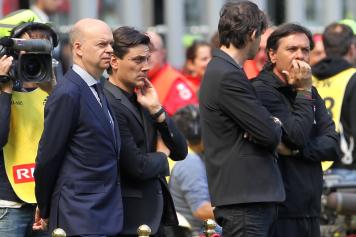 17 October at 12:00
Last week we covered the winners in the initial stretch of the Serie A season, and after such a fantastic weekend featuring Lazio winning in Turin against Juventus and an incredible derby between Inter and Milan, it's very easy to find more reasons to celebrate all that is great in Italian football, but as they say for every action there's a reaction.
While there are many teams, managers and players on their way up in Italy there have also been victims of their success- so let's take a look at the losers in the first two months of a remarkable season for Calcio:
Vincenzo Montella-
to be fair to the former Fiorentina and Sampdoria manager, integrating so many new players quickly would have been a massive undertaking for any manager. In addition, Montella must face the pressure of living up to the rossoneri's massive fan base expectation of ending the club's "banter" era after years of free transfers and desperate loan deals.
But after three losses in a row including one in a breath-taking derby, Montella received the dreaded public vote of confidence from a management team that hadn't hired him in the first place for the second time this season- his position is very precarious now that Milan find themselves seven points behind the last train for the Champions League. While Montella arrived at Milanello with the reputation for giving his team a pleasing style of play, so far Milan doesn't look significantly different than what Mihjalovic and Pippo Inzaghi produced with much less talent.
Juventus defense-
while plenty has been made about Bonucci's struggles, and for good reason, the fact that Juventus defense misses him as much as he does Chiellini, Barzagli and Buffon isn't getting much attention. But the bianconeri haven't had a defense this shaky since before the Conte era and while their improved offense has bailed them out in a few matches, this trend is starting to fade. This time last season Juventus had given us just five goals in all competitions compared to thirteen with this current squad- the numbers don't lie.
At first Juventus decided to replace Bonucci internally by giving more playing time to Benatia, who hasn't come close to regaining his form from his Udinese and Roma days, and Rugani- a player that Allegri still doesn't trust against top Serie A opponents and in the Champions League. Juventus then signed Howedes in the last days of the summer transfer to bring an extra alternative to their center backs and likely Mattia De Sciglio- but so far, the former Schalke defender has yet to play because of injuries.
Monchi-
as Juan Arango astutely tweeted last Saturday, no one would have predicted that so far this season Lazio's sporting director Tare would be getting way more praise than Roma's new mercato general. Monchi will almost certainly be able to improve this perception once Karsdrop and Schick start to play regularly, but so far his two best additions have been Pellergini (whom Roma already owned) and Kolarov, a veteran player who doesn't fit the blue print of a Monchi gem whose value will raise significantly.
It feels safe to say that Roma is no longer the second-best team in Serie A, and without making any significant new additions Napoli have surpassed them and that has to somehow also reflect on Monchi. Schick is a superb talent but because he isn't a natural winger you have to ask yourself if he and Defrel were enough to replace Mohamed Salah who often created something from nothing for the giallorossi last season.
Hellas Verona-
the gialloblu aren't your typical newly promoted Serie A team. I'm old enough to remember the time they won the scudetto in the 80s when Calcio had the best league in the world, they have very strong support at home (even when they were in third division they had over 10000 season ticket holders) and their current squad features established veterans like Cerci, Pazzini, Caceres and Romulo.
But while not much was expected by Benevento, it's safe to say of the newly promoted teams Hellas Verona has been by far the most disappointing. Maybe the Cassano soap opera during the summer preparation created too much of a distraction, but feels inevitable that their manager Fabio Pecchia will be one of the first to be sacked.
Domenico Berardi-
Sassuolo's crown jewel was often called the Italian Robben because of his magical left foot- but if you were to graph his career into one of those charts companies use to show growth, you would see a sharp turn for the worse in the past 12 months. Berardi was already coming off a disappointing season which was impacted by a significant injury in summer of 2016, and since then he's seen quality teammates like Sansone and Defrel leave on top of his mentor manager Eusebio Di Francesco head to Roma.
Last year I wrote a column on the possibility that Berardi would follow Di Natale's footsteps and have a successful career as a "bomber di provincial" which would leave many wondering "what if"- but seen Sassuolo's current state you have to wonder if Berardi himself regrets turning down Juventus so many times or not pushing to join Inter or Roma when he was playing well enough to justify a massive fee for his current club.
Genoa-
even after Sunday's away win against Cagliari it's hard not to describe the beginning of the season as a significant disappointment for the rossoblu. The two big summer additions, Lapadula and Bertolucci, have yet to make an impact and manager Ivan Juric, who had been sacked last season only to return for the stretch run, is once again on the hot seat.
On top of disappointing results on the pitch, there has been a lot of drama surrounding the supposed sale of the club- many don't believe president Enrico Preziosi would sign the papers if even a more than adequate offer came in- if that weren't enough, cross town rivals Sampdoria are off to an excellent start to the season.
Atalanta-
I know it may feel surprising to see them listed as a loser considering their performances in the Europa League and Gasperini's pleasing style of play, but the Bergamaschi find themselves behind the likes of Sampdoria, Chievo and Bologna in the standings and will have a very hard time qualifying for European competitions next season.
On the bright side for Atalanta, so far this season they've had a difficult schedule (they already faced Roma, Napoli and Juventus) and they have a substantial margin for improvement with Spinazzola now returning to the starting lineup and De Roon re establishing himself on his former squad.
@DavidAmoyal
David Amoyal