Official: AC Milan report Lazio fans after racist abuse towards Bakayoko and Kessie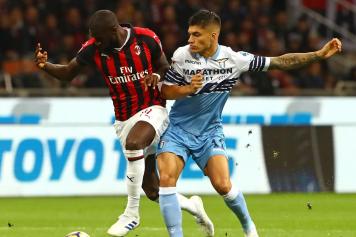 25 April at 19:30
Following last night's very disappointing incidents at the San Siro,
AC Milan have decided to file a report
after the racist abuse towards Bakayoko and Kessie, which came from the Lazio fans.
The chant aimed towards Bakayoko was heard before, during and after the game, casting a dark shadow over what could've been a nice encounter between the two sides. The Lazio fans repeatedly sang 'this banana is for Bakayoko', while also making monkey noises whenever Bakayoko or Kessie got hold of the ball.
AC Milan have now decided to take action, reporting the incidents to the highest sports governing bodies, which was revealed in a statement earlier today.
"AC Milan wants to reiterate its condemnation of all forms of racism and discrimination following the incidents of last night's Coppa Italia semi-final second leg game between AC Milan and SS Lazio. Recurring chants and monkey noises directed to players Franck Kessie and Tiémoué Bakayoko could be heard coming from the away stand before, during and after the match.
"Throughout their 120 years of history, the Rossoneri have always honoured the values of Sport, respect and inclusion, which underpin everything we do. "The Club wants to thank all players from both teams for their professionalism and their fairness, as well as its fans for their passionate support and their responsible behaviour despite a climate exacerbated by unacceptable episodes.
"AC Milan has felt an obligation to report yesterday's serious incidents to the highest sports governing bodies, with the hope that, with everyone's commitment, measures are implemented to eliminate racism from all stadia," the statement read.
Check out our gallery to hear the horrible chants.​