Official: Eder joins Jiangsu Suning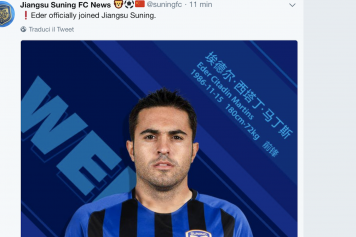 13 July at 12:05
Inter striker Eder has joined Jiangsu Suning on a permanent deal, the Serie A giants have confirmed through their official website and social media accounts.
Inter have agreed to sell Eder for € 5.5 million, the Italy striker will earn € 5.2 million-a-year. Eder has signed a two-year and a half deal with the Chinese Super League giants.
GALLERY: Inter and Jiangsu announcements on social media.
CLICK HERE FOR MORE TRANSFER NEWS