Official: Inter appoint Stefano Pioli to replace Frank De Boer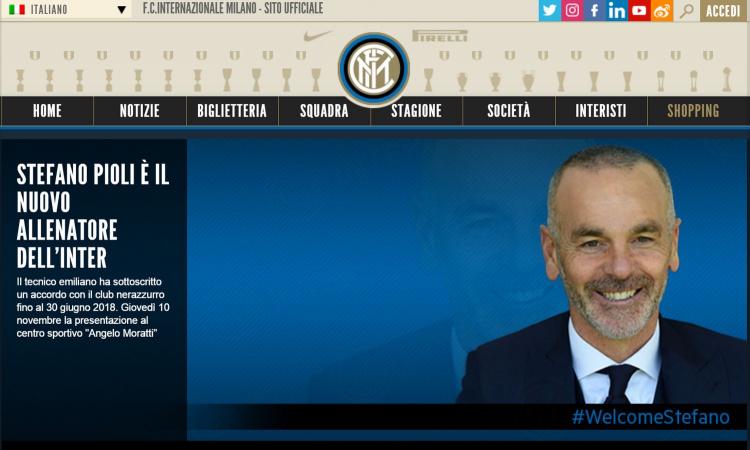 2016-08-11 - 16:43
It's happened. Inter have made Stefano Pioli's hiring official,
confirming that the former Lazio Coach in his post until June 2018.
F.C. Internazionale is delighted to confirm that terms have been agreed with Stefano Pioli to become Inter's new head coach until 30 June 2018.

Joining the club with him will be Giacomo Murelli (assistant coach), Davide Lucarelli (technical assistant), Matteo Osti (fitness coach) and Francesco Perondi (fitness coach).

Born in Parma on 20 October 1965, Pioli's first professional coaching experience came with Salernitana in Serie B in 2003/04. That was followed by a further two seasons in the same division with Modena in 2004/05 and 2005/06.

He took the reins at Parma in Serie A the following year, before obtaining further success in Serie B with Grosseto (2007/08), Piacenza (2008/09) and Sassuolo (2009/10).

Pioli returned to the top flight with Chievo Verona in 2010/11 and then, after a brief spell at Palermo, took over in the Bologna dugout – 12 years after starting his coaching career in the Bologna youth academy.

A series of solid showings over the next three years (2011/12, 2012/13, 2013/14) attracted the interest of Lazio, whom he joined in 2014.

In his first season in the capital, Pioli guided Lazio to a third-place finish (and Champions League play-off spot) and reached the Coppa Italia final.

The new Nerazzurri coach will be unveiled to the media in the press room at the Centro Sportivo Angelo Moratti on Thursday 10 November (time to be confirmed).
Pioli rescinded his deal with Lazio earlier on today, our sources confirming that he gave up the salary Lazio owed him from June of this year to the present day.
He is set to earn €1 million net until June 2017, then €1.5m for the second year. Both sides have, like in the De Boer case, also agreed on the necessary payouts.
It's official you guys
I'm personally a fan, the man is crafty fox and a great tactician https://t.co/ZrTuwKRxkq

— Edo Dalmonte (@EdoDalmonte) November 8, 2016
@EdoDalmonte