Official: Napoli complete signing of Roma defender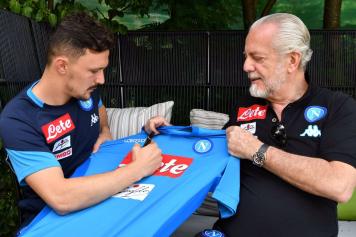 13 July at 20:50
It is official, Mario Rui is now a Napoli player. The announcement comes via Twitter, with a photo published by President Aurelio De Laurentiis. The former Empoli player reunites with Maurizio Sarri, and is expected to join his teammates immediately.
THE NUMBERS - Rome confirms the figures in an official statement. There is loan based on a lump sum of 3.75 million EUR with an obligatory redemption, subject to certain conditions, set at another 5.5 million EUR.
After a disappointing season plagued by injuries and lack of consistency, perhaps a new club and an old coach will allow Mario Rui to find top form once again.
@davidbaleno