OFFICIAL: Ramsey will join Juventus next season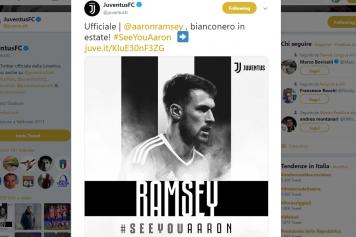 11 February at 20:49
Juventus have confirmed that Aaron Ramsey will join the club from next season.
That's the official announcement of the Serie A giants:
"Juventus Football Club S.p.A. announces that a contract of employment with the player Aaron James Ramsey, effective as of 1st July 2019 and expiring on 30 June 2023, has been signed. As a result of the registration of the player, Juventus will incur additional costs of € 3.7 million, to be paid within 10th July 2019".