Olympiacos 3-1 AC Milan: Player Ratings - Reina insecure, Higuain disappointing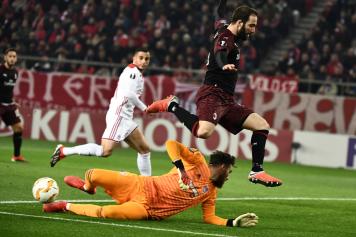 13 December at 23:10
AC Milan were relegated from the Europa League this evening as the unthinkable happened, despite the fact that the Rossoneri could've advanced with a loss.
In the first half, Olympiacos didn't get many chances as Milan controlled the challenge, though the second half was a completely different story. As the home side evidently needed to push forward, the Rossoneri decided to do the same, which led to end-to-end football.
Olympiacos took the lead after a quick corner, which caught the Milan defence off guard, and so the game was on. Just nine minutes later, a shot was deflected off Zapata, in such a manner that Reina couldn't save the looping ball: 2-0.
However, Zapata made up for his mistake by scoring the 2-1 goal just minutes later, heading in Calhanoglu's corner. From there on, things looked secure for Milan, but the referee decided to award a cheap penalty to the home side, which was converted.
Take a look at our gallery for the AC Milan player ratings.