Paper talk: Italy avoid relegation and join the seedings; Piatek future in Serie A big club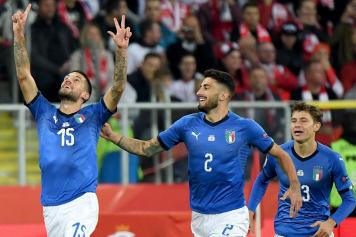 15 October at 07:59
Italian newspapers are all focused on the
victory of the national team against Poland in the Nations League
. The last-gasp goal scored by Cristiano Biraghi not only saves the Italian side from relegation and gives again a win: according to
La Gazzetta dello Sport
,
Mancini's side will be seeded in the draw
for the qualifications to Euro 2020.
Cristiano Biraghi has dedicated his first goal after 3 matches with the Azzurri's shirt to Davide Astori, his former teammate who died last 4 March: "He's part of me", tells the Fiorentina defender after the match.
"This is Italy" is the
La Gazzetta dello Sport
headline on the cover, while
Il Corriere dello Sport
uses a simple "Bellissima".
Tuttosport
main headline, instead is dedicated to a transfer market news: "
Piatek-Juve, I tell you everything
". The newspaper from Turin reports an exclusive interview with Giorgio Perinetti, general director of Genoa in which he describes the features of the Polish striker ("He is a scorer of yesteryear") and explains that, right now, he doesn't have a price. "Everyone follows him – Perinetti reveals -.
In June, the market will decide his future
.
Newspapers give much attention even to the
next Serie A day, in which the main course will be the Milan derby.
La Gazzetta dello Sport
, based in Milan, dedicates two pages to disclose the possible moves of Spalletti and Gattuso for the crucial challenge: Inter manager wants to "Reignite Perisic and unleash the Ninja", as reported, while Ringhio needs to "Find Calhanoglu and trigger Higuain".
Click on the gallery for more transfer news and front pages of Italian and foreign papers