Paratici reveals what he did when Mendes offered CR7 to Juve and the difference between Conte and Allegri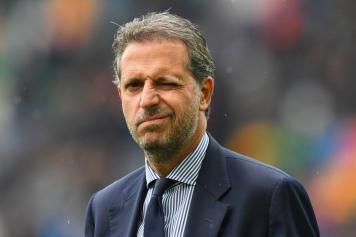 03 January at 15:30
During the 13th edition of the Dubai International Sports Conference, Fabio Paratici spoke about Juventus and the transfer of the century: "Ronaldo is Ronaldo, there is nothing to say", Paratici told
Tuttosport.
"We are happy with him not only from a technical point of view. He is an example because when you look at the number 1 working like that, everyone feels obliged to do the same, he trains a lot and is careful to every detail".
RONALDO'S TRANSFER -
"Everything happened very quickly, it was a historical transfer, we need to thank the president Florentino Perez and Real Madrid because it was not easy to sell a player like that. The first contact was during the quarterfinals of the Champions League, Jorge Mendes told me that Cristiano wanted to play for Juventus. I thought it was a joke, then he talked about Cancelo and he also went back to Ronaldo. That moment I understood that we could purchase him. I talked to Agnelli, it was not easy but he immediately responded positively, both from the technical point of view and from what he could bring to our brand. After a few hours, he called me back to tell me to try to take CR7. Allegri was very happy, he is a lucky coach. Agnelli talked about Ronaldo with the sales managers, we did an economic study and when we understood that the operation was advantageous, we decided to finalize it".
ALLEGRI AND CONTE -
"In the last eight years, we have had two of the best coaches in the world, Conte, and Allegri. They are different: Conte is more characterized and organized, he was perfect for that moment. He is a coach with Juventus in his heart. With him and Agnelli, there was the rebirth of the club, they gave us great help. Allegri found a situation already in progress, he came from a great club like AC Milan and gave us this kind of mentality. He is more technical and open to the different game situations, I learned so many things so I have to thank them".
BUFFON -
"When you lose a flag like Gigi you have to prepare and it is not easy. He is also a friend of mine, from whom I learned a lot about football and Juventus. When ended the championship we confirmed Szczesny, then Buffon had a proposal from PSG and he told the president he wanted to leave. At that point we decided to let him go".
Mirko Laurenti