'Peace Derby' stopped after nine red cards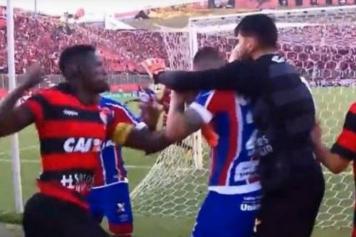 19 February at 16:00
A derby clash between Brazilian clubs Bahia and Vitoria was ended 11 minutes before full time on Sunday after Vitoria were left with too few players to finish the match which featured nine red cards and a massive brawl.
With their league match tied at 1-1, referee Jaílson Macedo de Freitas ended the proceedings in the 79 minute and awarded Bahia a 3-0 victory after Vitoria's Bruno Bispo was sent off for arguing.
Bispo's red card marked the fifth of the day for the home side, which left Vitoria with just six men on the pitch. And according to Article 56 of the General Rules of Competitions, teams are not permitted to play with fewer than seven.
The bizarre ending was partly the result of an earlier clash between the two sides following Bahia's second-half equaliser.
The match, which, after a six-game ban, was the first to admit both club's supporters and was billed as the "Peace Derby," exploded four minutes after half-time when Bahia's Vinicius crudely celebrated his converted penalty in front of the home support.
Vitoria fans and players took exception to the gesture, and goalkeeper Fernando Miguel and others immediately confronted the midfielder, sparking ugly scenes which saw players leave the bench and Vinicius punched in the face.
Referee De Freitas took 16 minutes to sort the confusion. Once he did, he sent off seven players