Pep's former pupil claims on-loan England midfielder could head to Manchester City this summer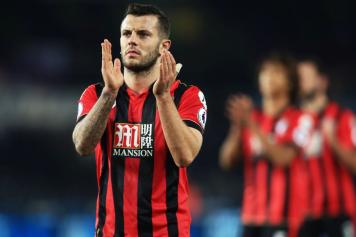 16 February at 14:00
England midfielder Jack Wilshire has been frozen out at Arsenal and has spent the current season on-loan at Bournemouth. The Cherries have stated however, that they will be unable to afford to take him on a permanent deal in the summer which could leave the 25-year-old in limbo ahead of the new campaign in August.

There could be some good news however, with former Spain and Barcelona legend Xavi stating that the player is well respected by his former mentor and current Manchester City boss Pep Guardiola whilst declaring that he wouldn't be surprised to see Wilshire lining up for the Citizens next term.

Sky Sports quotes an interview give to Fox Latin America
where Xavi explained that; "I know Pep has always had a lot of respect for Wilshere - he impressed so many of the Barcelona team when we played Arsenal in 2011. He impressed me a lot that night, I know he also did Pep and it will be a player that he would have been following ever since. We have talked about him; it was not a performance you forget easily."
He went on to add that; "Technically he is the sort of player that Pep loves - his only problem has been injuries - and if it wasn't for the issues he has had with injuries I am sure he would be one of the best midfield players in the world. At the moment he seems to be doing well with his fitness - and if there is a chance to sign him in the summer - I am sure Pep will give it real consideration."