Pics: From Donnarumma to Dollarumma, Milan fans threw fake money at him...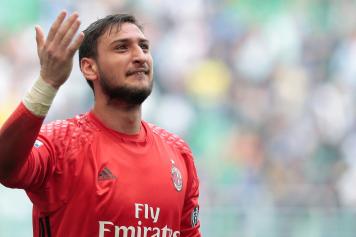 18 June at 23:10
Gigio Donnarumma's U-21 Euro Championships did not start in the best of ways even if Italy beat Denmark by a 2-0 score line (with goals from Pellegrini and Andrea Petagna). Let's not forget that Gigio Donnarumma (and agent Mino Raiola) shocked the football world by letting AC Milan know that he wasn't going to renew his deal with the club. Milan had made him an offer of close to 5 million euros per season on a 5 year contract (which is high end money for an 18 year old keeper like him).
Some Milan fans from the Polish Milan fan club went to the stadium and had a few surprises for him. First of all, they made a banner which said: " Donnarumma becomes Dollarumma...". During the game, they then threw false money at him as the game had to be interrupted for a short period of time...
Watch the pictures right here on
Calciomercato.com .