Player Ratings: Juventus 2-2 Tottenham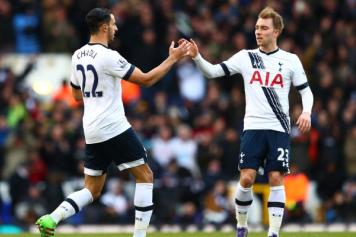 13 February at 23:50
Juventus-Tottenham 2-2
JUVENTUS
BUFFON 5: Responsible over the second goal. Spilled a ball in the first half, too, as well as making a great fingertip save.
DE SCIGLIO 6: Did a good job at the back, splendid tackle on Dele Alli and contained Erik Lamela well.
BENATIA 6: Can't really be blamed for the opener, and spent the whole game fighting Harry Kane tooth and nail. Could have conceded a penalty in the first half, however.
CHIELLINI 5: Responsible both for Eriksen's free kick and the opener. Didn't look to be going with the flow today.
ALEX SANDRO 6: One wonders whether Kwadwo Asamoah would have brought more attacking panache.
PJANIC 5.5: A brilliant start, setting up Higuain's opener with an excellent flick. Was poor for the rest of the first half, and struggled in supporting the attack.
KHEDIRA 5: Looked far too slow, as has happened on occasion in his Juventus career, struggled with Spurs' pressing.
Replaced by 66' BENTANCUR 5: Didn't have an impact.
BERNARDESCHI 6: Was brought down for Juve's first penalty, and ran his socks off the rest of the way. Not impactful enough to warrant a high mark.
DOUGLAS COSTA 5: Not a trequartista, that much is clear. Had one stunning moment, but looked better when he was shifted back to the wing.
MANDZUKIC 5: Missed a big chance. As much as he also sacrificed himself, he has to score those if he wants to justify more games in the middle.
HIGUAIN 6.5: A low mark for a brace, and for someone who chased down every ball. But the former Napoli star missed one of his penalties, and had a one-on-one with Lloris he couldn't bury.
All. ALLEGRI 5: His Juventus side looked far too exposed, and couldn't win despite a two-goal advantage. That major gamble didn't pay off.
TOTTENHAM
LLORIS 6.5: Almost stopped that first penalty and made a superb save on Higuain later.
AURIER 4: Dear Lord, that was poor. Is less of an alternative than the North Londoners' youngsters.
SANCHEZ 5: A poor game, and couldn't quite muzzle Higuain.
VERTONGHEN 5.5: It's in games like this when Alderweireld is brutally missed.
DAVIES 5: A contributor up front, but clattering into Bernardeschi was foolish.
DEMBELE' 7: Outstanding both in pressing and construction.
DIER 6.5: Wow. Only a few months ago he was getting stick for letting Victor Wanyama replace him. Not anymore.
ERIKSEN 8: The Man of the Match, surely. Provided Kane with an early pass that could have been an assist, had it not gone out. Went on to make one and score the leveller.
ALLI 5.5: Fell asleep on Higuain's goal, and wasn't his usual impactful self.
LAMELA 6: Interesting. His cuts between the line were an interesting notion, but weren't exactly cutting, either.
KANE 8: Could have had a hat-trick if it hadn't been for Buffon.
POCHETTINO 5.5: Conceding two, allowing two penalties and risking at least two more goals is not exactly a strong visiting card. Must do better.