Pogba; "Donnarumma deserves respect"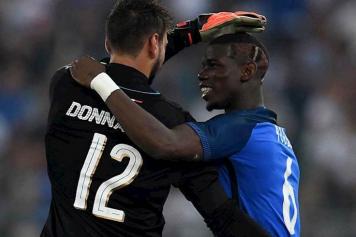 19 June at 14:55
Milan goalkeeper Gianluigi Donnarumma must feel he needs as many friends as he can get after last week's announcement that he would not be renewing his contract with the Rossoneri. The 18-year-old was subject to taunts from the crowd in last night's 2-0 Under-21 win for Italy against Denmark with fake dollar bills being thrown into his goal.

He does however, have an ally in the shape of Manchester United superstar Paul Pogba who took to twitter to show his support for the youngster. The French international declared that; "Donnarumma will soon be the best in the world and he deserves only respect for what he has done up until now.


Donnarumma soon best in the deserves only respect for all he's done until now#forzaGigi

— Paul Pogba (@paulpogba) June 19, 2017