Pope Francis forces change in Serie A schedule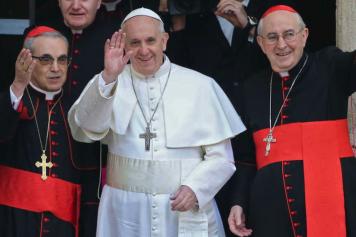 01 March at 09:00
Many have said it will take divine intervention to save Benevento from relegation. Well, it looks like they'll have to settle for the next best thing.
Pope Francis' visit to the town near Napoli will delay their relegation battle with Cagliari.
Here's the official statement:
Commissioner Giovanni Malagò, acknowledging the request made by the National Observatory on Sports Events to postpone the Benevento-Cagliari match, scheduled for Saturday 17 March 2018 at 18.00, in order to encourage the adoption of appropriate measures of public order on the occasion of a religious event with great public appeal in the province of Benevento.
#BeneventoCagliari: si giocherà il 18 marzo, alle ore 15 https://t.co/BSgT7trNfp

— Benevento Calcio (@bncalcio) February 27, 2018