Juve, Allegri: "We have what it takes to progress..."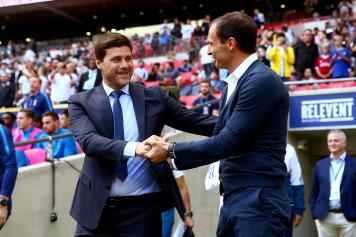 13 February at 23:30
Max Allegri spoke to
Premium Sport
after the game against Tottenham, here is what he had to say:
" It was a nice game, we took the lead early on but then they were able to come back into the game. Buffon made a nice save on Kane but they still scored not too long after. We will give it our all in the return leg, we will go there to win. Sitting back? It's normal since Tottenham are a pretty strong team. We have to do better and we surely wanted to win but there is still one game to go.
We have what it takes to win in England
... . Once we were up 2-0, we surely sat back a little but we didn't concede much in the second half. Tottenham? They didn't surprise me since I know that they are solid. They were clinical when they got chances. Matuidi and Dybala? They will both be there for the return leg. We are now focused on Torino and on the Italian Serie A. We will focus on our next game against Tottenham when the right time comes".