Premier League final scores: Burnley-Liverpool 1-3, Man Utd-Arsenal 2-2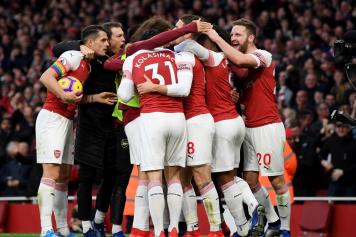 05 December at 22:41
FINAL SCORES:

Burnley-Liverpool 1-3
Fulham-Leicester 1-1
Everton-Newcastle 2-1'
Manchester United-Arsenal 2-2'
Tottenham-Southampton 2-0


Tonight, Premier League matchday 15 will take place. After yesterday's Manchester City win, Liverpool is called to a great performance against Burnley in order to shorten the distance with the top of the table. Guardiola's team already collected 41 points. In case of a Reds victory, they will reach 39 points.

The most fascinating clash of the day is, obviously, Manchester United-Arsenal. Mourinho is living a difficult moment since his team is 8th in the Premier League table while Emery, after a bad start, brought Arsenal to the 4th place.

In order to steal Gunners' position, Tottenham are expected by Southampton, that recently signed with a new coach, Ralph Hasenhuttl. Arsenal and Spurs collected both 30 points. Tonight, there will also be space for emotions since Claudio Ranieri, with his Fulham, is coming back to Leicester City. This time as an opponent.
Mirko Laurenti