Profile: Thomas Strakosha, Karius' replacement at Anfield?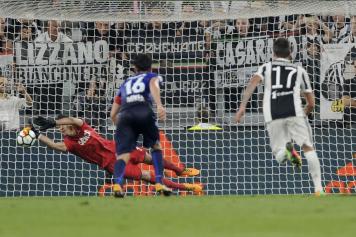 14 June at 13:30
Just how good is recent Liverpool target Thomas Strakosha?
The young Lazio goalkeeper has
recently been linked to the Reds
, who are unsatisfied with Simon Mignolet and Loris Karius, who had a nightmare Champions League final.
He would certainly be a lot cheaper than Alisson, whose price has risen to €70 milion in recent days.
But who is this 23-year-old, and is he worth it? The answer would certainly be yes in Italy, where the country as a whole came to that realisation back in the Autumn, when Strakosha denied Paulo Dybala with a last-gasp penalty save to help Lazio beat Juventus 2-1 in Turin.
Yet two years ago, it really didn't look like his career would be reaching those heady heights.
Loaned out to Salernitana after being acquired from Panionios in Greece (for just €75.000, no less), the Albanian had done well with Lazio's Primavera, but struggled in Campania, playing only a dozen or so games in the 2015-2016 season.
Returning to the capital, he was only the third string goalkeeper behind Federico Marchetti and Ivan Vargic. Another talented Albanian, Etrit Berisha, had competed (and arguably outplayed) Marchetti in recent times, only to find himself left on the bench when both were fit.
While Berisha would eventually leave, however, Strakosha was offered a chance by fate when, during the 16-17 exercise, Marchetti went down before the Milan tie in September due to a thigh strain. In stepped Strakosha, who would go on to make the job his over the coming months, earning a new deal until 2022 and the praise of scouts and fans around the country.
He has just finished the season with an average Gazzetta mark of 7.27, better than Mattia Perin, Andrea Consigli, Pepe Reina and Wojciech Szczesny.
This shouldn't be such a surprise: his father Foteq is still to this day the most capped goalkeeper in the Albanian national setup, and his success played a role in determining where young Thomas would play.
Strakosha senior was known as the "Albanian Zoff" - ironically, the real Zoff has always been very close to Lazio, Coaching them in three stints.
Another coincidence: with Berisha injured, Strakosha was picked for his competitive international debut... against Italy back in March 2017, fulfilling a lifelong dream.
Is he a fit for Liverpool? In terms of talent, there is little doubt that Lazio have someone special on their hands. Oddly enough, that super penalty stop on Paulo Dybala isn't the best he's made this season…
this stunner away to Verona is.
A word of warning: he's another young player - the Anfield faithful may have wanted somebody who is experienced, ready to play in that Champions League final tomorrow and not flop. The likes of Marc-André Ter Stegen have hit in recent times, but it took a while for them to do it.
Claudio Lotito gets value for his players, making him a difficult person to negotiate with at times.
Still, it's hard not to hope that Strakosha makes that big move. Before that famous Juventus game, his Coach, Simone Inzaghi, had mocked him, carrot-and-stick style:
"I told him that if he kept not saving penalties, we won't even let our opponents take them, but just bring the ball back to midfield for kick-off!"
At 23, he's kept overcoming obstacles. Maybe Liverpool isn't such a big one after all...
.