Profile: Who is Liverpool, Chelsea target Nicoló Barella?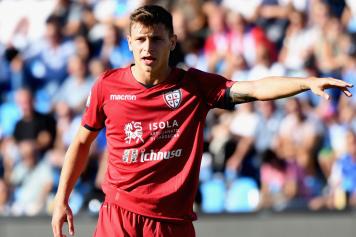 15 June at 14:15
Let's cut to the case: Nicoló Barella would be a heck of an addition to any Premier League side.
The quintessential box-to-box midfielder, the young Sardinian has gone from being a youth team player to starting regularly in just two seasons, and doing well enough to attract interest from Juventus, Inter and elite Premier League sides like Liverpool and Chelsea.
Chelsea fans hoping to recruit Radja Nainggolan will be happy to know that the 21-year-old Barella has often been compared to the Belgian, and not just because the two have both donned the Red and Blue of Cagliari.
As Barella himself said about the comparison, "we're alike because we always give 100% on the pitch. I hope to have a career like his, but I still have a lot to learn to reach those levels."
If anything, Barella is learning quicker than his companion, who had never managed more than two Serie A goals a season when he joined the Giallorossi at age 25. His young Sardinian successor already managed six goals last season, but is also the perfect cocktail of dynamism and technique.
He harries opponents, runs tirelessly to plug gaps and can immediately flip the script with a dazzling, almost Gerrard-like run. In some ways, he is reminiscent of Marcelo Brozovic of Inter.
There's more to this Nainggolan comparison: while the Belgian was initially seen as a defensive midfielder who eventually developed a more all-round identity, Barella began at the other end of the midfield before being moved backwards.
Why? Because he has a very good passing range for one, and can use both feet to quickly corral the ball and spread it around, something he does with great creativity and directness. His vertical passing (as you can see below) often helps Cagliari gain yardage quickly and help the whole team move forwards as a unit.
Barella's six goals are also proof that he can shoot, that's for sure. He generally seems to have that hypnotizing dynamism about him. Whenever he gets the ball, it seems to stick to his feet and he looks like he transcends what is going on around him, almost as if his vision allows him to wrest control of a play and mold it to his liking.
Another positive is that there are a moments when it looks like he wants the pressure, because it removes a man from the defence he is trying to split with a vertical pass. Jurgen Klopp would love to get his hands on someone like this, that's for sure. He's like Emre Can, but without the sense that he plays one game well, and two so-so. Barella is always giving his all.
That's not to say that his all is the complete package, at least not yet: the 21-year-old can get lost if the plays in front of the defence, as this very perceptive review pointed out.
Just like Marcelo Brozovic - another player very suited to the EPL - Barella can switch off if he isn't on the ball, and his runs without it need to be bettered.
At 1.72m, the Sardinian midfielder is short - so teams expecting him head every ball may end up disappointed. He can be a bruiser, but can go too far, as evidenced by his thirteen yellow cards last season.
Still, the advantages seem to clearly outweigh the negatives. A rough diamond, the mouth waters at the prospect of Jurgen Klopp (or Maurizio Sarri?) working their magic on this young man.

@EdoDalmonte