Psg president issues Neymar warning to Real Madrid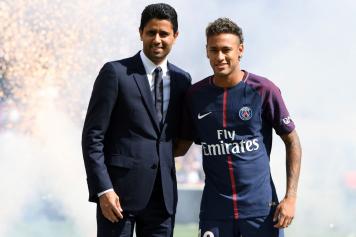 14 September at 12:10
The president of Paris Saint Germain Nasser Al-Khelaifi has given an interview with MARCA discussing the transfer market and attacks heavily the possible negotiations of Real Madrid with Neymar. He also discussed the relationship between Neymar and Mbappe, Ronaldo, Buffon and Champions League.
On Neymar-Mbappe – "Mbappé is already one of the best players in the world. And then there is Neymar. To be honest, I see them as the two best in the world. Winning the World Cup in Mbappe's age and performing how he did is amazing and an added value for the club. Mbappe always wants to win as Cavani, Di Maria, I think we have an incredible team set up.
The Champions League – "What's missing? We need a little more luck, believe in ourselves, giving our maximum till the end of every game as we have already seen that in the Champions league details matter so much."
Real Madrid-Neymar – "The rumors of Real Madrid and Neymar? I have to be honest they are a bit frustrating, because it is not fair that other clubs or anyone else to speak with our players, we do not like it at all and we spoke about it with Real Madrid. We have a good relationship, and they respect PSG, at least I hope that's true. We respect Real Madrid and their president, Florentino Pérez, but I think that it is important for all of us not to work behind the scenes. I don't know if I was clear... If there is something, it is better if we talk about it, with Florentino Pérez or anyone else, and we say what we like and what we don't like. That is what we expect from all clubs, not only from Real Madrid. Hitting each other is not the method with which it works at PSG, and I hope that other clubs do not use this method with us."
Cristiano Ronaldo – "If the departure of Ronaldo has weakened the League? I don't know, but this is football. Also we have sold players to Spain, we have sold and bought players, this is the market... Everyone is right, you have to have an open mind and put aside the outdated mindset of some people."
Buffon – "Buffon? He can give us a lot on and off the pitch. He's a legend and his experience, like that of Dani Alves, is required. For us it is a pride that Buffon will defend our colours".