PSG star blasts 'insensitive' Coach after Real Madrid elimination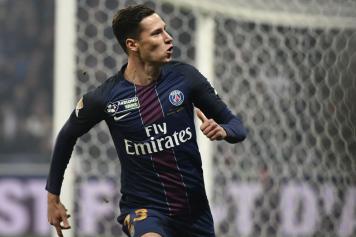 07 March at 14:00
Julian Draxler is not a happy camper.
The German has reacted pretty badly to Paris Saint-Germain's elimination in the Champions League Round of 16 at the hands of Real Madrid.
Though the Parisians were defeated at home 2-1, the former Wolfsburg man and Juventus target was also incensed at being brought on with 14 minutes to go, accusing Coach Unai Emery of being "insensitive."
Speaking to
ZDF
after the game, the German playmaker let loose:
"It was insensitive. I didn't know what was going on. I was surprised and angry."
​Emery is known for being on very thin ice at present, with his PSG sides always incapable of making their mark in the Champions League.
​Draxler had more to say:
"The goal for 1-1 went in but it did not change anything for us. I felt we needed to keep pressing and playing offensively.
"We lost a man, and even though we got it to 1-1 the whole stadium knew the game would not turn around because we didn't have the intensity on the pitch."
The German, who has often featured as a sub this season despite being signed for
€ 42 million in January 2017, had more to say against his Coach, who joined from Sevilla in the summer of 2016.
"We played the ball back and forth but you cannot score just doing that… We needed to put pressure on the opponents right from the start. We didn't do that so we deserved to be eliminated.
"In the summer we spent €400m and everyone was talking about how it was going to change things, but we have failed to get through this round again."