PSG star reveals brawl with Ibra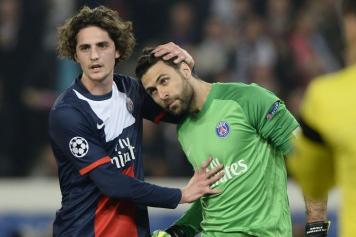 03 October at 13:00
Paris Saint Germain midfielder Adrien Rabiot have a long interview with
Extra Time
, a football fan site on the Gazzetta dello Sport, which tells all about his Parisian adventure, the commitments of the French national and the lack of transfer to Italy which, however, still fascinates him.
The impression is that this France has abundance of quality to overcome the final hurdles to lift the World Cup:
"We have two difficult games, but now we have no easy to beat teams, this is what we see in the last game, 0-0 against Luxembourg, Bulgaria is strong at gome, and it will be complicated for us as well. aAnew generation of talents coming in. But in football it's not enough to put a name on a shirt to win. "
Rabiot is targeting a plane ticket to Russia and the 2018 World Cup for France.
"I am as ambitious as everyone else, and a player who would like to be called up for the World Cup. It is is normal to play as much as possible and not to stay on the bench."
"The important thing for me now is to be part of this group, then, to qualify, we'll see that will happen. I hope I have the luck to play. "
Have you cemented your spot at PSG, alongside Motta and Verratti?
"I think I'm getting better on a daily basis, just looking at them."
"Motta is a player who never loses his cool, plays with a high head, with an extraordinary view of the game along with being able to deliver good quality of passes. Verratti can penetrate into the opposing area, with a great effect."
It could be said that you are blend of his two teammates.
"It is clear that I lean more toward Motta than when I'm on the field, but I like this idea of being a blend while maintaining while still being myself."
Who are your idols?
"Zidane, obviously for everything he has done. And Gerrard has become an icon of his club, Liverpool, but also for what he was able to broadcast on the pitch: a true warrior, and above all a great player."
Are you similar to Gerrard at PSG, although your contract expires in 2019
"Certainly it is a source of inspiration. Today, PSG has the ideal conditions to continue to grow, but from mid-point: it is the role that best suits me because it allows me to express my qualities better. I will have time to talk about a renewal. And in a career at some point I also hope to have some different experiences. For the moment I'm fine here. "
You have been in the first team for the last 5 years thanks to Ancelotti promoting you
"I was sorry to have seen him been released from Bayern Munich after defeating us in the Champions League. He is a great coach and a great man for me. It was very important because he was the first at that level to believe in me and he has made me realize that I had the potential to grow, despite being very young. "
Young, but in character, as shown by two "close encounters" with Ibrahimovic when heyou're your teammate.
"Basically I'm a quiet guy, but I can get nervous quickly, especially if I see injustice." The first "clash" with Ibrahimovic was during a summer game in the US, a friendly one.
He moved to take a pass, he lost ball and I was forced to get a yellow in order to retrieve it, so I was angry with Zlatan and, wrongly, I insulted him, it was not elegant on my part, but it was all over there. The other time we were training, but we came to shake hands, but that day Ibrahimovic was a little bit concerned with me, and he likes the kind of character that I am we have a good relationships. "
You can be an example for PSG Academy.
"Already at the training center we are taught to point to the top, to play one day in the Champions League. Ambition is part of our identity I try today to show that on the field. But they also teach us that we have to work hard, even if it is normal that not everyone can come to the first team.
"
Especially now that Paris St. Germain has entered a new dimension with Neymar and Mbappé. Are they more impressive as teammates or opponents?
"Neymar is a phenomenon. We realized that when he won the return game in the Champions League knockout game last season on his own, it's better to have him with us. Kylian has a great future ahead. They are the two stars of the transfer market, but we must not forget the importance of Dani Alves. He is a leader, perhaps in shadow. He is one of those who know how to talk to the group even in difficult moments. "
Two years ago, you considered leaving PSG for Roma
"I thought it was the ideal team to grow, learning from important players such as Francesco Totti who was an example for the whole world of football. Rome would then allow me to make a further leap of quality, perhaps in a larger club But it has been different and I am happy to have stayed. "
Strange for a player of his age choose to stay inSerie A.
"
Your league is again gaining importance, as well as the Juventus championship in the Champions League."
Yes, but in Champions League, this PSG is among the candidates to win the title?
"On paper we can be among the favourites, but the matches must be played. And Juventus, for example, has played two finals over the last three years: it has that experience that maybe we are still lack. That might be different now with my old Matuidi companion being there. "
Is there a player who you admire at Juventus
"He does not play in my role and has left the Bianconeri now. I like Bonucci, for style, but also for the spirit of leadership that he can convey to his comrades."
But what nickname do you prefer: Duke or Poupou?
"The fans call me Duke, the friends of the Poupou training center. I'm good with both."