PSG star: We need to get over Neymar injury to beat Real Madrid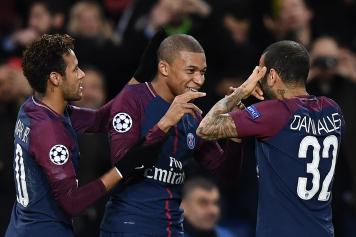 06 March at 14:00
Dani Alves hasn't exactly been making many friends of late, but he's said one sensible thing in the last 24 hours.
The Brazilian is rightly catching a lot of heat for some very insensitive comments he recently made about
Fiorentina defender Davide Astori,
who died in his sleep on Sunday morning as his team prepared to face Udinese.
Yet he has also made it clear that PSG need to "get on with it" despite losing Neymar for their upcoming Champions League tie.
The Ligue 1 champions have constantly sought European glory since being acquired by their current owners, Qatar Sports Investments, in 2011.
Yet they have never made it past the Champions League semi-finals, and disappointed last season when they allowed Barcelona to come back and beat them 6-1 in a legendary comeback.
But Alves thinks that PSG need to grow up, and play their best without the Brazilian supremo.
"It's impossible not to feel the absence of a player like Neymar," he added. "But either you cry or you get on with it, and I choose the second option.
"I speak with him practically every day and we've said we'll meet again later in the competition."
"What are PSG missing? Matches like this to show that Paris is not all about money," the full-back added.