PSG star 'would love' to play in EPL, grew up a Liverpool fan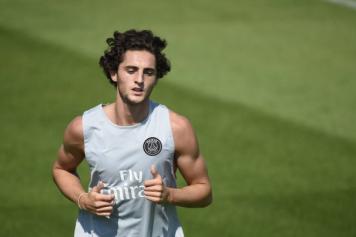 05 October at 13:26
Paris Saint-Germain star Adrien Rabiot says that he would "love" to play in the Premier League, and claims he grew up supporting Liverpool.
The PSG star has been linked to moves to Juventus and Roma over the last few seasons, but ended up remaining with the Ligue 1 side and making major strides.
Though he's started every game this season, his deal runs out in 2019. He has also been linked with Arsenal and Tottenham in the recent past.
"There are a lot of very good leagues," he told RMC radio. "It's also enriching to go elsewhere, but for the moment I'm happy at PSG.
"I would love to play in the Premier League. There's not necessarily any club in particular, even though when I was young I was a big Liverpool fan."
Rabiot also spoke of his own personal development:
He added: "For a box-to-box midfielder, it's essential to be decisive. I could also make progress in terms of my aerial game in front of goal. There are a lot of things, but I feel that I'm making progress."
The Frenchman does raise some question marks: Walter Sabaini (now at Inter), once claimed that he tried to guarantee his move to Roma by meeting with the 22-year-old's mother, only for her to insist on speaking with then-Coach Rudi Garcia. Sabatini immediately called it off.
@EdoDalmonte