PSG: We won't sell Real Madrid target, even for a billion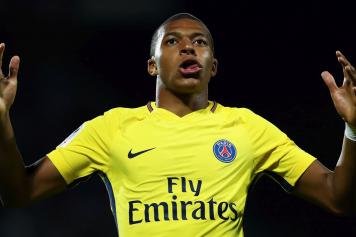 21 May at 11:30
Paris Saint-Germain are absolutely
opposed to selling Kylian Mbappé.
Marca reported last week that Real Madrid aren't really after Neymar, but actually want Mbappé, who was acquired last summer for €180 million.
PSG still need to pay €135m for him this summer, and could run into problems with Financial Fair Play.
Speaking to Canal+, Nasser Al-Khelaifi said that the Parisians would never let go of the 19-year-old, saying that he was worth "One billion Euros!"
"You want me to give you a number? More than a billion euros! Yes, I said one billion! And even if you gave me a billion, I wouldn't sell him."
The Ligue 1 star has scored 21 goals in all competitions for the Parisians, and has added eleven assists in his time there.
The French striker is considered to be one of the most promising young players around, and is expected to improve exponentially in the coming seasons.