Raiola: "It is Mirabelli's fault, Donnarumma was threatened". Here is the full interview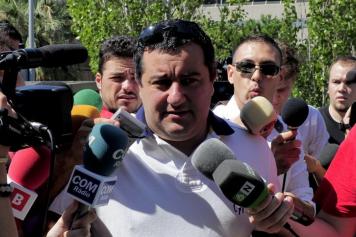 19 June at 00:20
Mino Raiola (Gigio Donnarumma's agent spoke to
Premium Sport
about the situation here is what he had to say:
RENEWAL - " It got too violent and hostile for our liking and we couldn't escape it. Donnarumma was threatened and his family too. They said that he wouldn't play and he even received death threats. They were going around the world with a top player budget but the real top player was already in their team and they did not respect that. I was ready to find an agreement but it never got to that".
MILAN'S POJECT - " They did not treat him correctly. Their tone wasn't correct and the understanding between one another was never there. Milan project? Yes I wanted to know more about there project. I told the Milan management that Donnarumma wasn't going to leave Milan as a free-agent. I said this because I wanted to calm things down but they didn't get it. Maybe I wasn't clear enough I don't know but I think that from the start, the negoatiations weren't well established".
OTHER CLUBS - " Many big clubs have been on him since he was 16 years old, even at 14 years old. We don't have any agreements with other teams and no one is working behind me. It's just, we couldn't take all of the negative tension that they were putting on us".
MIRABELLI - " I was talking about Milan but yes Mirabelli was the one who used certain actions against us. Possibility of talking it over? As of today, i don't want to re-open talks because it would be another circus. Milan? I have a great understanding with Fassone and if we have to talk to one another in the future we will do so. Even so, their decision is made and they forced us to give them an answer back by June 13th, which we did".
BENCH OR IN THE STANDS - " Yes he risks to lose the entire year. If they evaluate him on his talent then he will play if not let's see. For me this is not correct. Milan will sign a new keeper? They are allowed to do with they want, it's not my problem..."
On the Milan social media, the
rossoneri
fans decided to launch the
#IoStoConMirabelli hashtag (I am with Mirabelli). Raiola pretty much said that it was because of Mirabelli's aggressive behavior that Donnarumma did not renew his deal with the club. Fassone will respond to Raiola's words tomorrow morning...

Jean-Luca Mascaro (@CalcioNews89)