Raiola on racism: 'Black players need to do more to be picked. On Lukaku...'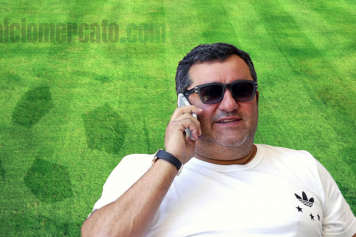 22 October at 14:40
Mino Raiola may not be many fans' cup of tea, but he has made some remarkably insightful comments about racism.
Asked by Swedish newspaper Expressen about his take on racism, he claimed that black players are "constantly discriminated against", revealing that Romelu Lukaku's mother had to take his birth certificate to youth games to prove that he wasn't older.
Raiola covered a series of prejudices which his black players are subjected to, with regards to their alleged physicality, footballing intelligence and other key facets. The Italo-Dutch super agent said that black players "needed to do more" than whites in order to prove themselves.
At a time when the role of institutional racism is front-page news in American sports because of some NFL players' refusal to stand for the national anthem, this interview is particularly pertinent.
We're frankly going to lift this whole passage from the interview (translated by 101greatgoals) because it's that good.
First and foremost: Football is the most democratic sport. It must be the same for all.

People say there is no discrimination in football? Black players are constantly discriminated against. There is conscious discrimination. It comes from this world's bastards.

There is also unaware discrimination. We think we think correctly, but we have stereotypes which we justify. When people ask me about a black player they always ask: 'Is he like …?' And then they compare him to another player.

Is he like Pogba? Is he like Balotelli? Is he like Lukaku? I never hear any question: Is he like the Toivonen? Or is he like Ibra? Or is he like Beckham?

Black players are put in a corner, they become stereotypes instantly. When they are young, they have to do even more to succeed. It's not enough to be as good as a white player, you need to be better. It was the same situation for Zlatan in Sweden. He needed to prove more.

Then there are claims that black players are physically stronger. That's not right. It is discrimination. There is no scientific evidence for that.

Another thing I hear all the time is that black players are not technical enough. If you only have physical attritubes, you definitely do not play for Manchester United. You need technical skills, intelligence, mentality, professionalism.

Many people in sport think like that. I give a name, for example a Dutch player. Their first question is whether he is black or white. I ask what the hell does it matter? Do you think this happens in American sport? Scottie Pippen, is he black or white? Who in hell cares? Can he play basketball? Can he play soccer?

For Lukaku, this has always been a problem.

I was talking to his mother. Eventually she went to youth matches with birth certificate. She always ended up with other parents who did not think he was 12 or 14 years old. It was always a fuss that he scored three or four goals.

He was bigger and physically strong, yes. But they screamed that it was not in the right age. So she took the birth certificate. He was born in Belgium, but they spread false reports he been born in Africa. 'Here it is', she said.

Paul (Pogba) is an ambassador to the Respect campaign now. I tried it with (Mario) Balotelli in Italy, where we are 50 years behind everyone else.

I'm always happy when a black player goes off the plan in protest against racism. If Mario or Paul would do that I would not have any problems with that.