Raiola talks Donnarumma's future, claims Balotelli could be among the four best strikers in the world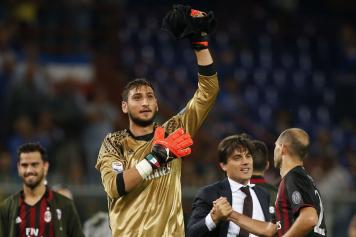 09 October at 10:22
Gianluig Donnarumma is one of the most promising players of the Italian football panorama. The Italian goalkeeper is just 17-year-old but has been playing on a regular basis for one year. His agent Mino Raiola has talked about his client's future in an interview with
Il Corriere dello Sport.
"He [Donnarumma] has everything it takes to become the best goalkeeper in the world. He's like a white canvas where an artist is free to start painting. A true masterpiece can rise from nothing. He's young, but is as mature as a veteran, he wants to improve during each training session."
"Donnarumma is very serious and well-educated. His future at AC Milan depends on new owners. I am concerned about their passion rather than their money.
Nobody will remember Berlusconi's presidency for the money he spent. Everyone will remember him for his passion.
If someone asks me how much Donnarumma's worth, mean he can't afford him."
​Raiola was also asked to share his thoughts on other Serie A clubs as well as on some else of his clients.
"If I were [Napoli president]
De Laurentiis, I'd have spent Higuain's € 90 million to refurbish the San Paolo.
A club like Napoli can't play the Champions League in such a stadium. Only Juventus, Udinese and Sassuolo have good structures in Italy."
"Juventus are the best organized club in Italy, no surprise they've been dominating Serie A for the last five seasons.
Moises Kean
can become the number one striker out there. He's a great talent, he knows how lucky he is and is aware of his qualities."
"
Mario Balotelli
must continue like this. We are all very happy about the choice he made. He's found a familiar environment in the French Riviera and the 2017 can be his year. If he's fit he can be among the four best strikers in the world."
"Do you remember Nedved's first season at Juventus? The same can be applied to
Paul Pogba at Manchester United.
New league, new squad, new teammates. He has to settle in well in such a different environment from Turin, but his development is only a matter of time."