Ramos fires back: Argentinians prefer Messi to Maradona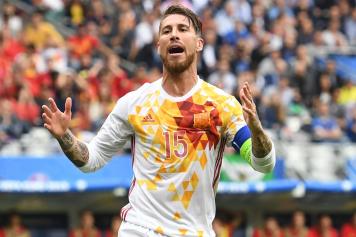 21 June at 11:40
Sergio Ramos has hit back at criticism from Diego Maradona, claiming that it is "known" in Argentina that Lionel Messi is better than him.
While Ramos isn't the most popular person around because of his recent tackle on Mo Salah in the Champions League final in Kiev.
El Pibe had taken a shot at Ramos, claiming that he wasn't as good as Uruguay's Diego Godin. The centre-back just so happens to be playing for Atletico Madrid, too.
Maradona played a massive role in helping his country win the World Cup in 1986, while Lionel Messi has not gone as far, his Albiceleste side losing the 2014 final to Germany.
"In Argentina they know that Maradona is light years away from the best Argentine player in history which, for me, is Lionel Messi," he said.
Ramos also had some things to say about yesterday's 1-0 win over Iran.
"They [Iran] went out to waste time, whereas we like to win in a different way," he said.
"We leave happy. We've taken another step forward and now we have to try to top our group, it's our objective.
"I still think we can improve in all aspects."