Real Madrid jokingly asked Daniel Alves to join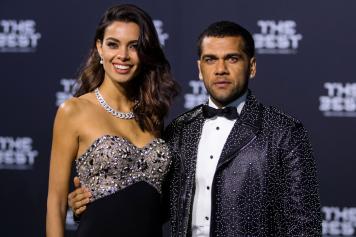 24 October at 13:55
Florentino Perez recently shared a joke with Daniel Alves, semi-seriously asking him to join Real Madrid.
The Merengues president was speaking to Radio Show El Transistor, and said that the two met at the FIFA Awards.
"I bumped into him in the lobby and as usual, he was very friendly.
"We shared a small joke – I informed him again that he should have joined Madrid and he told me not call him!"
Alves moved to PSG this summer after falling out of favour at Juventus, and narrowly ending up at Manchester City.
The full-back won three Champions League trophies with Barcelona in his time in Catalonia, but left two seasons ago under a cloud.
Perez also expressed his support for Coach Zinedine Zidane, despite his Real Madrid side struggling in La Liga, finding themselves a whole five points behind leaders Barcelona.
"Zidane? He won because of his success and this stems from his humility, it is the same as when he was a player.
"Our success is due to the high level of our players and the amazing work of Zidane – to manage such fantastic players like he does is very difficult."