Real Madrid's Cristiano Ronaldo: "My battle with Lionel Messi continues"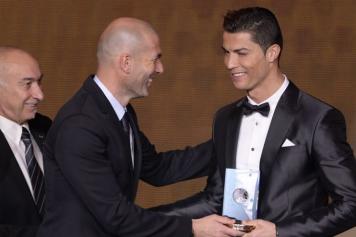 07 December at 22:00
Real Madrid's Portuguese attacker Cristiano Ronaldo was understandably very happy after having won France Football's coveted Ballon d'Or for a record 5th time.
When collecting his award Ronaldo stated that "I feel happy, it's a great moment in my career. This is something I look forward to every year. Last year we had an amazing season in the Champions League and La Liga. I hope to play at this level for a few more years. I hope the battle with Messi continues, things happen for a reason. I feel good this season and we'll see what we win at the end of the year. Neymar has a lot of talent, a lot of potential, and I'm sure he'll have some chance to win in the future."
After the award the 2017 Ballon d'Or winner sent out a tweet thanking his teammates and family as can be see below.
Nima Tavallaey Roodsari (@NimaTavRood)