Real Madrid star recovering from heart condition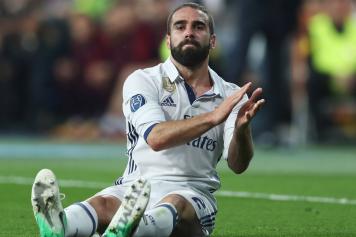 12 October at 19:00
Daniel Carvajal is recovering from his virus very nicely, and it looks his heart condition isn't as bad as initially expected.
The virus that had provoked the Spaniard's pericarditis is reported to have disappeared,
according to AS
, who were speaking to sources next to the Real Madrid star.
The 25-year-old recently signed a two-year extension with the Galacticos, but found any chance to celebrate thwarted by this diagnosis, as well as a potential investigation over alleged racist abuse he shouted at an opponent in the Levante draw.
Madrid's team doctors don't want to take any unnecessary risks with the three-time Champions League winner, however, so he has yet to be discharged.
There are potential dangers, including that of a relapse.
Carvajal hasn't trained since September 30th.
The Spanish international is considered one of the finest right-backs in the world, though he's struggled this season, with the pericarditis possibly informing that.