Real Madrid star: We're 100% behind Zidane ahead of Spurs clash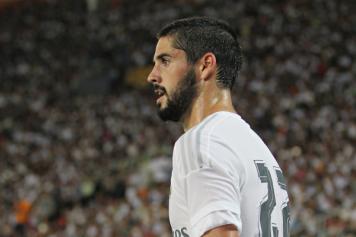 17 October at 16:00
Real Madrid star Isco says that the team fully supports Coach Zinedine Zidane, and has warned against overconfidence.
The midfielder, who broke through towards the end of last season and is now practically a full-time starter, said that the team is "
100 percent with Zidane for everything he gave us last season" ahead of tonight's game with Tottenham Hotspur.
"Zizou can't be questioned, although it's normal that those who have done the best in training will play. It's important to have the whole team plugged in," he continued.
Isco's recent emerge looks to be followed by that of Marco Asensio, while former Betis man Dani Ceballos has also impressed in the little time he's had available.
"Advice to Asensio and Ceballos? They broke through at the same age as I did, but football's very long and if they work hard, they'll surely have their moment.
"Patience is needed with them because it's a pleasure to have them with us for the quality they have.
The 24-year-old then spoke of Real not getting too cocky, something Coach Zidane has hinted is behind their five-point gap from leaders Barcelona.
"Compliments? I don't watch the news or read newspapers, I stay away from any praise. One day you're the best and the next you're the worst.
"One day you're God and then if you mess up five passes in a row, they want to kick you out of Madrid.