Ref trolls Cassano: 'I'm getting old, but you're getting worse...'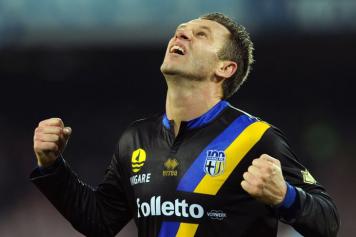 24 April at 19:04
Today's entertaining Serie A clash between Sampdoria and Lazio at the Marassi wasn't just the chance for the home side to win 2-1 and guarantee its permanence in Serie A... it was also an opportunity for Antonio Cassano to come up with another Cassanata.
Only this time, he found an opponent who was more than up to the challenge: referee Nicola Rizzoli, whom the suspended Cassano encountered in the tunnels at half-time. Always smiling, the striker was pulling the referee's leg a little, likely remonstrating about a couple of calls that hadn't gone his team's way.
Completely unperturbed, a grinning Rizzoli responded to Fantantonio by telling him that "I may be getting old, but you're getting worse!".
A refreshing interlude in Cassano's long and comparatively troubled series of encounters with the referees.
It was a good job for Rizzoli and his team that they got the call right on Sampdoria's winner, Lorenzo De Silvestri's touch clearly aiding the ball over Federico Marchetti's line.
@EdoDalmonte