Report: Astori's body to undergo routine autopsy procedure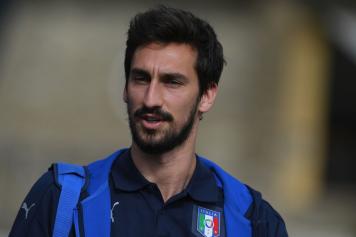 05 March at 14:34
Authorities in Italy have taken all necessary precautions as they are investigating the recent and tragic death of Fiorentina skipper Davide Astori.
As such, the Udine prosecutor's office has opened an investigation, which allows an autopsy to be performed on the former defender. It is a routine sequence of events in order to have an autopsy performed, and in no way means foul play is suspected.
Astori, who was 31, was found dead in his hotel room yesterday, hours before he was supposed to lead Fiorentina out against Udinese in a Serie A clash, had previously represented the Italian national side mutliple times.
A public prosecutor in Udine- Antonio di Nicolo - told
Giornale Radio Rai
that an investigation will be launched into Astori's death. Di Nicolo said: "We have opened criminal proceedings over the hypothesis of manslaughter. It is currently unknown, but an autopsy will be performed soon."
Astori, who became a father to a baby daughter about two weeks ago, died in his sleep yesterday morning. It is said that a massage therapist at the hotel found him dead after he hadn't picked up the breakfast call in the morning.
Reports in Italy state Astori died of a cardio-circulatory arrest due to natural causes and Di Niccolo also confirmed that he showed no signs of illness. This case now, has taken a turn of its own.
Kaustubh Pandey(@Kaus_Pandey17)