Report: Bayern star wants Barcelona return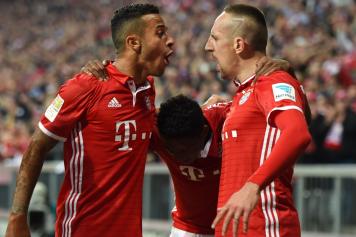 03 January at 17:25
Thiago Alcantara wants out of Bayern Munich,
according to the latest reports.
​Mundo Deportivo write today about his brother, Rafinha, who ironically wants out of the Camp Nou.
​Father Mazinho (a former player and Brazil international himself) has been speaking to Barca about Rafinha's displeasure at being dropped. He could follow in his brother's footsteps, while Thiago is claimed to want a return to Catalonia.
​Thiago was sold in 2013 as part of the transfer window that brought Neymar to the Camp Nou. He was also given the chance to rejoin former Coach Pep Guardiola, who had since moved to the Allianz Arena.
​Thiago is a talented attacking midfielder, and has shined in his time on the pitch with the Bavarians. He scored eight goals and provided as many assists between the Bundesliga and the Champions League last season.
He could be out of action for a few months, anyway, going down in a Champions League game
against Anderlecht in late November.