Revealed: AC Milan's plan to hire Conte includes Gattuso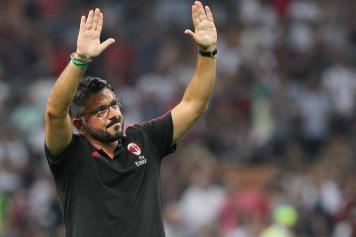 11 October at 11:25
AC Milan dream
Antonio Conte
as their next manager. Today's edition of
Il Corriere dello Sport (as quoted by calcionews24)
insists that the current Chelsea boss is the
rossoneri
no.1 target for next season. AC Milan had already made an attempt to hire Conte before they appointed Montella in summer 2016 but the former Juve boss is still in AC Milan's mind especially because Montella is not doing great so far.
With three games lost out of seven, Montella's position at AC Milan is at risk.
According to
Il Corriere dello Sport,
Montella's job would be in danger if he loses the derby clash against Inter on Sunday.
AC Milan executives know Conte is an impossible target for the present but they are aware that he could be leaving Chelsea as soon as the season ends.
That's why the
rossoneri
would consider to promote Rino Gattuso to senior team boss if Montella loses and gets sacked after the derby clash.
Gattuso is currently the
manager of the Primavera team
and he would be promoted to senior team if Montella faces sack.
AC Milan want to hire Conte at the end of the season and the appointment of Gattuso will give them time to wait for the Italian tactician to arrive at the end of the season. Montella, however, still wants to prove that he is the right manager for the job.