Revealed: Sarr, Ivanovic, Darmian... Juventus' long list of defensive targets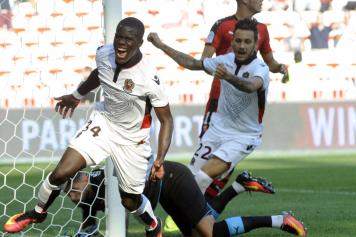 01 December at 12:47
Juventus' legendary BBC defence is one of the most feared in Europe, and adding two more B's (Buffon, Benatia) to Bonucci, Chiellini and Barzagli is enough to give any striker the jitters.
It's an open secret, however, that the Bianconeri's icons aren't getting any younger, a fact underlined by the fact that every member of the BBC has been injured this season, as has the 29-year-old Mehdi Benatia.
Despite possessing Daniele Rugani - who is coming along nicely - our sources tell us that Juventus will be shopping for more defenders, so as to find some long-term solutions to allow them to transition to a bright future.
Who are the Bianconeri intending to recruit? How about Branislav Ivanovic, whose deal with Chelsea expires in the near future, while his role is in sharp decline? We recently underlined, however, that Antonio Conte's presence in London could be a problem.
An actual long-term solution would be Atalanta star Mattia Caldara, a young player whom Fabio Paratici has long had his eyes on, alongside team-mate Andrea Conti. Juventus have been watching him for over a year, but will compete with Roma and Inter for the full-back's services. They plan to talk about signing him when they talk to the Orobici about another prodigy… Franck Kessie'!
Other young guns? Remember when we wrote about Malang Sarr of Nice? He's still on the list, the Bianconeri fascinated by the prospect of replacing the ageing Dani Alves and Patrice Evra with this diamond.
With his role in Manchester in doubt, Matteo Darmian fancies a return to Italy, and Juventus could be just the place for the former Torino man.
@EdoDalmonte