Revealed: what Diego Simeone told son Giovanni before move to Italy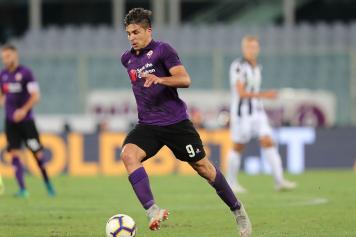 15 September at 11:45
Fiorentina's Argentine forward Giovanni Simeone, son of Atletico Madrid head coach and former Lazio forward Diego Simeone, has been attracting attention this year as he looks to prove himself in Serie A. The 23-year-old joined Fiorentina in 2017 from Genoa, scoring 14 in 38 for the Viola in Serie A last season, and scoring once in two games in this year's campaign so far.
Speaking in a lengthy interview with
La Repubblica
, Simeone revealed more about his life and career, including the mantra his father told him before he left to join Genoa:
Describe Fiorentina in two words
"A family."
In the days of pain following the tragic death of Davide Astori, you reacted on the field.
"Yes, and it's not rhetoric, it's our story, we trained as it had never happened before - always a thousand, no one spared a drop of sweat, we reacted like this, as David would have liked."
And the history of the band? Did you really fear that the League would snatch it from your arm?
"No, never, that was the captain's legacy, our symbol, and certain symbols do not touch."
Who helped you in those delicate moments?
"At that time I had recently found a girl, I had fallen in love, yes, it was Giulia who gave me a hand, and then meditation, a path that my mother told me".
Meanwhile, a Fiorentina was born full of boys. You are the youngest team. Little experience, so much enthusiasm.
"It's easy to explain, I think, so if we put our passion, our grit in the field, we can be surprised, if we lack these qualities we become a terribly normal team, and we do not want to be."
You and Federico Chiesa are a special couple. Two children of art ended almost suddenly under the limelight.
"Me and Fede are very good friends, because we share this destiny: to be the sons of two great players ... Well, the real advantage is to have someone trustworthy to ask for advice, and even to enter a locker room for real players when you're a kid. the funny thing is that my father came for the first time to see me play as a professional last August 26, when we won with Chievo."
And thank goodness that in the end you also managed to score.
"Yes, I really wanted to put it in. When you know there's a parent in the stands, it's not easy."
But is there a sentence from your father Diego that you always carry with you?
"There is one that is a mantra." He told me before I left for Genoa: Giovanni, remember that until your last training session you have the chance to improve yourself."
By the way: what was your goal this time?
"I could say that I want to score more goals than last season, but the truth is that I want to learn how to be more useful to the team, to become the reference to raise the midfielders, for example".
And maybe even save a little energy. Is not that all that running takes away lucidity?
"But that's me, I can work on it a bit, but without exaggerating".
Debut with goals in the national team, everyone's dream.
"Pure happiness, but this joy is the daughter of all the work done here in Florence, I have to thank Pioli, who often keeps me in the field at the end of the training session, explains the movements and makes me work on the technique."
Here everyone is asking: who will be the anti-Juventus?
"In my opinion, Inter is very strong."
Championship fought or already decided?
"Exciting, to the end, the level in Italy has risen, not just Cristiano Ronaldo, but many other strong players, it's nice to play here".
And Fiorentina?
"Courage, youth, fun, gratitude, we are a group of good feelings, we want to do better than last year."
Giovanni, can we say that pain has built a new path?
"None of us is the same as before: our values ​​are written on that band: the love for Florence, the gratitude for Davide Astori, our captain forever."
For more news, views and features,
visit our homepage.