REVEALED Why Antonio Conte left Juventus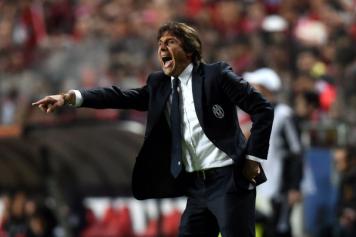 06 November at 00:35
Alessandro Alciato, one of the most influent Italian sport journalists who
co-wrote Andrea Pirlo's autobiography
"I think, therefore I play"
, has a new book out.
"Metodo Conte"
(Conte's method) looks at Pirlo's first manager at Antonio Conte, with whom he won three Serie A titles.
The journalist reveals
why the current senior Italy national team coach left Juventus
in 2014:
"
Conte wanted Cuadrado
, but Juventus couldn't afford to buy him from Fiorentina. On top of that, the club
failed to ensure the permanence of Arturo Vidal and Paul Pogba
at the Stadium. Moreover, Conte did not agree with the
club's friendly summer tours.
The former Juventus boss was also at loggerheads with the club's Director of communication
Claudio Albanese
."
The title of the first chapter is:
"Buffon, I would have never expect this from you"
and it recounts an episode which occurred on the 17 of May 2014 in the
Juventus backroom
.
"The team had already snatched their
third successive Serie A title
, but Conte wanted to win the last home game against Cagliari in order to finish the campaign with more than 100 points, and set a Scudetto record.
"Conte joined the team in the video room, and before the meeting could start, Buffon entered to ask his boss to go out and join him and the club's CEO Giuseppe Marotta in order to
discuss the bonuses
the players were to receive for winning the title".
"Conte simply
lost his rag
, insulting the captain as well as the rest of the team.
'Shut the f*** up Gigi, What the f*** are you saying? Don't say a word. I don't want to see you anymore, get out of here! I would have never expect it from you, you don't know s*** Gigi, you are the captain, you are a disappointment to me as well as all these idiots.'
"The chapter ends revealing that
the whole thing was planned by both Buffon and Conte
in order to keep the team on its toes: Juve ended up beating Cagliari and breaking the record".
By the time Conte was appointed as Italy's head coach, he was
no longer on good terms
with his former club, something
Federation President Carlo Tavecchio
confirmed through an interview which was included in the book.
"Juve and Conte didn't have a good relationship. He has a very strong personality, and things were complicated by an economic dispute between him and the club.
Allegri didn't make the situation any easier, saying that the player camps Conte was trying to organise were just impracticable".
"When Marchisio allegedly got injured before the game against Bulgaria and Juventus put the blame on him, Conte was feeling really depressed, he thought that the Bianconeri were working against him."
Lorenzo Bettoni (@lorebetto)