Roma, was Di Francesco unhappy after Barcelona win?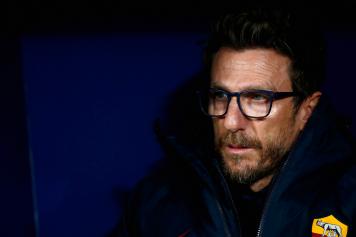 17 April at 16:20
AS Roma manager Eusebio Di Francesco believes the Serie A side were mentally a bit down after knocking out Barcelona in the Champions League.

The La Liga giants had a 4-1 lead after the first leg of the quarter-final clash at Camp Nou. The return leg in Italy saw Ernesto Valverde's side suffer a 3-0 defeat and eventually bowing out of the competition.

Roma's second leg tie against Barcelona was days before the derby clash against Lazio, which ended in a goalless draw. According to Sky, Di Francesco was disappointed with his team's reaction after registering a victory over Barcelona.

​Meanwhile, the Italian coach stressed Lazio played long balls in the last league clash between the two sides.

"Today, the two attacking midfielders didn't move well. Schick relied too much on Dzeko. Why do you see a different Roma in Serie A? Because we're not playing in the Champions League (laughs)," Di Francesco explained after the weekend's derby.

"Lazio often opted for the long ball and turned the game into a scrappy one, with Barcelona it's different."

Questioned over the team's attitude after their Champions League win against Barcelona, Di Francesco replied told media today: "I think we faced the derby with the right approach. Maybe the external environment can think about this, not us. Against Lazio we were not as good as our opponents but I am sure the team was not focused on Barcelona."