Ribery releases statement after tantrum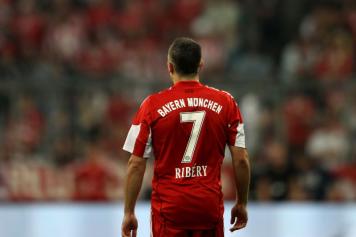 13 September at 16:55
Bayern Munich won 3-0 over Anderlecht in the Champions League opening fixture, but the night was slightly overshadowed by the actions of veteran winger Franck Ribery, who was upset that he was replaced by manager Carlo Ancelotti, according to
101greatgoals.
Ribery's statement translated is as follows:
"I have always been one of the honest and loyal players in this business, I respect the fans and I respect the club I love.
The throwing of my wet jersey from last night has nothing to do with disrespect, or anything else that I am accused of by people who believe or pretend to know me.
This wet jersey, in which I have been giving everything for more than ten years, with all my impulsiveness, my victory, and with whom we have achieved so much.
Some will never understand what it means to give everything to their club and I'm sorry for them.
As long as I stand in the field, I will defend our colours, Franck Ribéry, and be involved in every game with all my passion.
Because I love football, out of love for our followers and to make many fans happy in the world.
With the help of our incredible fans, their love for the club and their passion, we will continue to write a beautiful story together in the future!
WE ARE WHO WE ARE!