Rocco Commisso reveals how close he was to acquiring AC Milan and gives Chiesa update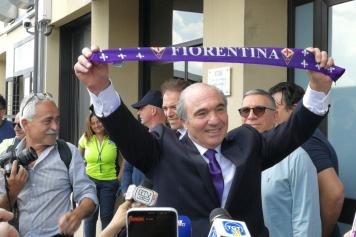 21 July at 12:45
Fiorentina's owner Rocco Commisso spoke in an interview with Corriere della Sera
about his first weeks as the Viola president as well as about how close he was to become AC Milan's owner one summer ago.
"We were at the final signatures. The night before, while we were waiting for the documents, Mr Li, whom I never saw in person and with whom I never talked, changed everything. Banks, consultants, lawyers, clauses, everything. I thought that he had a better offer than mine but it did not turn out that way and he lost 500 million euros in a year in a half. But maybe I don't know the whole story," he said.
"I'm in love with football and Italy, I'm here to learn and work. This is the promise I make: I will work a lot, like I always did. The money I put into Fiorentina is mine, not a consortium's. For this, with great humility, I ask the collaboration of Italian institutions and Mayor Nardella.
​"This is because, frankly, I cannot afford to see the fruits of the sacrifices and investments I am making today in ten years. For example, I cannot find myself in the situation in which Pallotta is today in Rome with the stadium issue.
"Chiesa? I don't want to sell him. I don't want him to be my Baggio. I met him here in Chicago and I talked to him. I hope I can convince him that, with Rocco, things will go much better for Fiorentina in the near future," Commisso concluded.