Roma coach Di Francesco: "Dzeko reminds me of van Basten"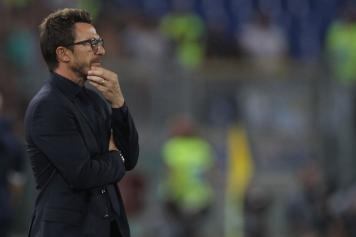 21 October at 16:34
Roma coach Eusebio Di Francesco held a press conference ahead of tomorrow's Serie A clash against Torino.
"For me the game tomorrow is perhaps even harder than the one in London. From a mental standpoint, and also given how we have been able to prepare for this match. The attitude inside the dressing room needs to be united: to be aware that each gome as different to the last and has it's own difficulty. Maybe we will not be quite as sharp at the start of the game tomorrow, also considering the travelling we have done, but we want to produce our best in the game."
Di Francesco was then asked about Roma's chances of winning the Scudetto after the loss against Napoli stating that "I want us to keep playing football and keep proving ourselves on the pitch. Not long ago people were writing us off and now they have us down as title contenders. You need a bit of balance – and that doesn't mean giving up. It means believing in your own ability, quietly get on with the job and trying to make life hard for everyone. Our number one objective is to come away with three points tomorrow, anything else is just talk and counts for very little."
In conclusion Di Francesco was asked to compare Batistuta with Dzeko stating that "they are two completely different players. Edin is much more technical and knows how to play with the team. If I am to compare him to anyone I would compare him to van Basten. I hope he can win as much as van Basten did."
Nima Tavallaey Roodsari